Book your free no obligation quote today.
Commercial
We offer extensive experience in Commercial works, delivering a complete job management service, drawing on reliable and results driven contractors, resulting in proven, outstanding work, on time, and to budget.
Commercial building works and renovations
Complete rebuild, refurbish and refit
Alterations and extensions
Office suite refurbishment
Machinery Sheds
Maintenance contracts
Project Management
The Bended Elbow, Dean Street, Albury
Initial refurbishment of existing premises into new entertainment venue. Further renovations including construction of second storey outdoor Beer Garden and refurbishments to Nightclub area. Recent extension of premises and remodelling of vacant lot into a restaurant area, works including two fully retractable roof systems for all weather use on both levels. Ongoing maintenance as required.
Project Highlights
Complete initial rebuild of refurbishment of premises into franchise pub design.
Alteration of and construction of second floor deck and beer garden restaurant
Refurbishment and fit out of night club area
Extension to building, increase floor space and refurish. Fix out neighbouring site into new laneway restaurant.
Sweethearts Pizza
Industrial look operational extension to Sweethearts Pizza.
Project Highlights
an industrial look operational extension to Sweethearts Pizza
complete the extension to exacting and high standards
The Laneway, Dean Street, Albury
Exposing the old, solid red bricks revealing some old signage from around 70 years ago. All the walls were clear lacquered to give the effect of an old laneway adding in some plant walls to soften the look.
Witney constructions removed the old shop from next door, cut through the 4 brick thick wall and dug under the existing pub to excavate out the footings to fit steel members to prop up The Bended Elbow dance floor above.
The roof is also retractable. Witney Constructions supplied and fitted the retractable  roof systems to ensure on time completion for the client.
Witney Constructions made all the tables, recycling the timber out of the old roof beams to make  the table tops.
The floor is cobble stone and each tile was laid individually. poor tiler!
Project Highlights:
clear lacquered old, solid red brick with softening planting creating the old laneway effect
supply and fit retractable roof
custom made, recycled timber tables
Cobble stone floor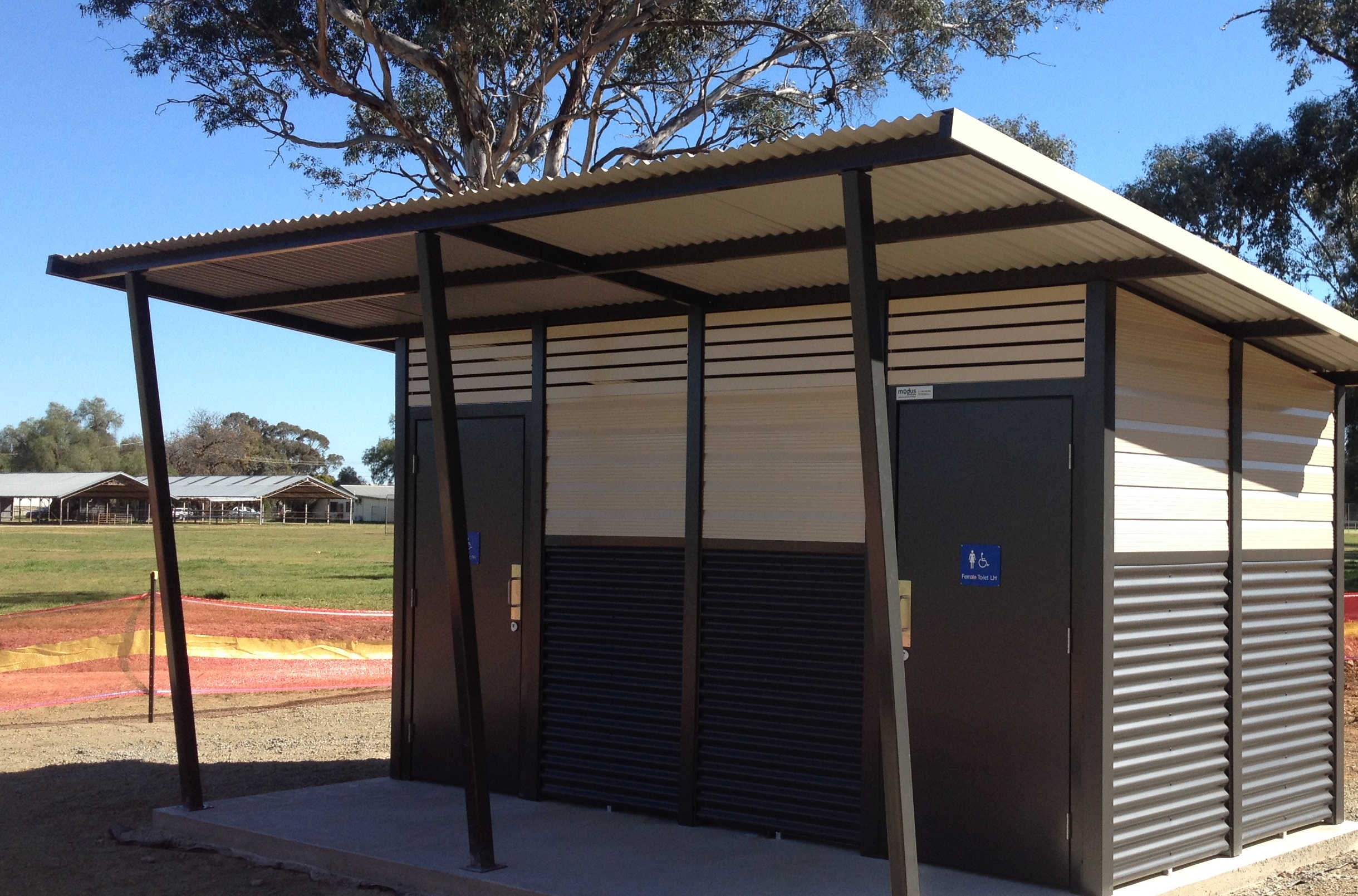 Greater Hume Shire Council, Albury
Multiple ongoing tender for council facilities including town hall and public amenity refurbishments (public pool) and complete erection and build of new toilet bicks in the surrounding regional area.
Project Highlights
Project Manager/contractor to build and/or refurbish public area buildings, including public toilets blocks and amenities and Town halls.
Refurbish pool amenity block
Refurbish public area toilet block.
Programmed Property Services
Project Highlights
Prefered Contractor on various Commercial projects for continued maintenance and refurbishment
Project/site manager on all projects
2016 refurbishment of Ettamogah Pub and works to buildings in the immediate vicinity
Agricultural Building
Erection of 400m2 machinery shed includes pull down, redesign with extension, concrete slab foundation and compete erection of structure. Organisation of materials to location over 100 kms from office base.
Project Highlights
400m2 machinery shed
design and erect structure
organisation and transportation of materials, 100kms to site.
Concreting
We do a wide variety of industrial and residential concreting including custom build stairs, driveways and stock yards.